I've made a mistake. Can I cancel my order?
If your order has already been shipped then we won't be able to cancel it. Our fulfillment centre is usually super quick with shipping (sometimes within an hour of an order being placed) which means a lot of the time we'll be unable to cancel your order for this reason. We're also based here in Australia, so different time zones can mean a delay in letting your local fulfillment centre know. Contact us here if you'd like your order cancelled.
Is there a SUNNYLiFE store anywhere?
Maybe sometime in the future! At the moment though, we do not have an actual SUNNYLiFE store.
Can you please send me newsletters?
Sign up here! Plus, you'll get 10% off your first order.
What if I want to buy a SUNNYLiFE product as a gift?
SUNNYLiFE is an excellent present idea and we have heaps of cool products which are perfect for gifting! Unfortunately, we don't offer a gift wrapping service or personalised gift notes. But we do make sure no invoices are sent with your order. You can also check out our range of SUNNYLiFE E-gift cards, delivered straight to the recipients email inbox.
A SUNNYLiFE item I purchased from another retailer isn't right?
Please contact the retailer that you purchased the item from and they will be able to help you.
Help, my voucher isn't working!
Our checkout allows only one discount or voucher code to be used per purchase. Note that some discounts are automatically applied while others require a code—but only one will be redeemed at any time. No further discounts can be applied to any products already on sale or after redeeming an offer.
Can I sell SUNNYLiFE products in my store?
Click here, fill out the form, and one of our wholesale team from across the world will be in touch with you.
Free Shipping FAQ's:
Free shipping is only available for valid addresses within Mainland UK, Ireland & selected European countries. Free shipping is calculated on the value of your cart after all discounts are applied. Selected products will incur a Large Item Shipping and Handling Fee.
Only half or a part of my order has arrived. Why?
UPS & FED EX sometimes split orders into multiple deliveries, within the shipment tracking you will be able to see that there are other packages in the shipment and any shipment updates here.
UPS Example below: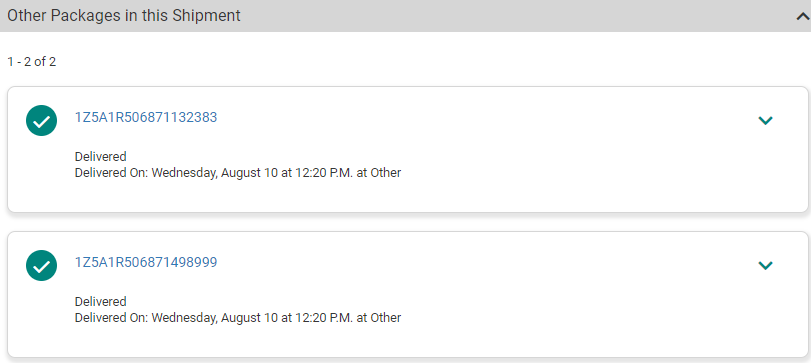 There's something wrong with my SUNNYLiFE order, or I'd just like to return it. Can you help me?
Check out our returns policies below.
Returns
We offer 30 days from when you receive your SUNNYLiFE order to make a change of mind return. All product must be unused with fully intact packaging. Once we receive your return back to our warehouse we will assess the product and then refund it.
Unfortunately we don't offer prepaid labels for returns or change of mind. When sending your order back to us we recommend that you use a trackable service as we are not responsible for lost or damaged returns.
Exchanges
Unfortunately we're unable to offer exchanges, however please feel free to return your product/s so that we can refund them and you can repurchase what you would like on our site.
Faulties
We offer a 12 month warranty on all SUNNYLiFE products. To obtain a replacement for a faulty product, the below will need to be provided to our customer service team for assessment:
Proof of the product fault.
Proof of purchase ie: order number, retail receipt, bank statement.
Fill out this form here and we'll get back to you about your return in 1 business day.
Due to unforeseen duties and charges incurred at customs we are unable to send replacement products internationally from our warehouses in Australia, The Netherlands or the United States. If you are a SUNNYLiFE online customer with a faulty product and reside internationally, we are able to offer you a full refund for your faulty product. If you have bought from one of our wholesale partners then you will need to get in contact with them directly for their replacement policy.
Do you sell replacement light globes for your neons?
No, we no longer make this product.
Is your website secure?
Our websites meet all 6 categories of PCI standards. Your details are not going anywhere!
Do you ship internationally?
We sure do.
Do you need shipping to Australia, New Zealand, Asia? Click here.
Do you need shipping to the USA? Click here.
Can I buy SUNNYLiFE for my business, or do you offer bulk order discounts?
Maybe! Get in touch here and we'll let you know. Make sure you let us know what products you're after, how many, or what your budget is and we'll see what we can do.
What's your goal, SUNNYLiFE?
All we want in this world is to share Australia's unique and fun summer lifestyle with the world.
We exist to bring positivity to people's lives, smiles to their faces and help them savour every precious moment. We dream of people joining in our movement, our way of life, the feeling, the experience.
Have you got a question that we haven't answered? Get in contact with us here.